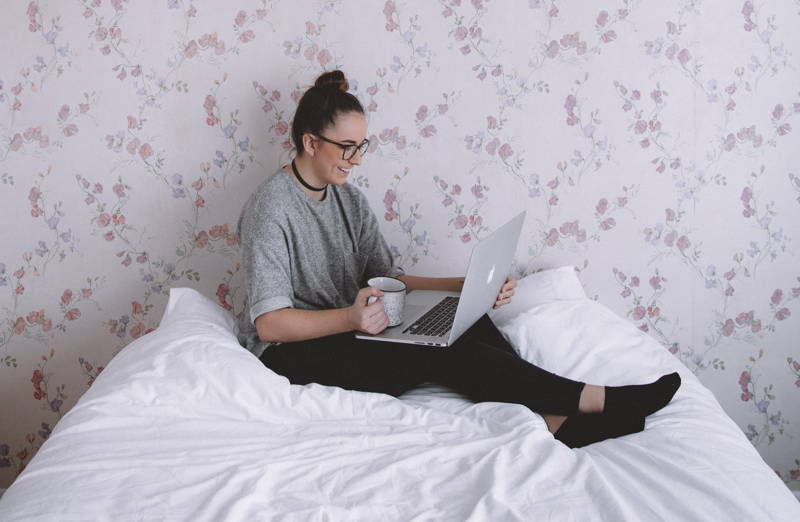 Photo courtesy of Becca Tapert
Some say letter writing is a lost art. When it comes to personal letters this may be true, but there are still some times in the workplace when a polished, well-written letter is appropriate and even required.
Types of professional letters
Professional letters you're probably most familiar with are letters related to your personal career or position.
Another category includes letters written for specific company or business purposes, for clients, business partners, stakeholders, or even to coworkers and direct reports. If you're a manager, work in HR, or conduct business on behalf of a company, you've probably written one of these.
How to format a professional letter
There are many scenarios where you need to know how to write a professional letter; luckily, all follow the same basic format.
Return address (or your business address)
Start with your contact information and business address at the top left corner, as you would on an envelope. This will be separated into four or five lines.
Your name
Your phone number or email address
Your company's name (if applicable)
Street address
City, state and zip code
Skip one line.
Date
Always include the date you finish writing the letter (or even the date you know you will mail/send it), even if you began on a previous day. Use the standard format of month, day, and year. For example: May 15, 2020.
Skip one line.
Recipient's address
Format this the same way you did your address, and use the formal name of the recipient along with any official titles, such as Dr. or Ms. If you are not 100 percent sure of the person's gender or preferred pronouns, omit gendered titles and use their name only.
Recipient name
Recipient's company name
Recipient's street address
Recipient's city, state and zip code
Skip one line.
Greeting/salutation
Opt for Dear Ms. So-and-So to remain formal, and then include the recipient's preferred title and last name. If you're not 100 percent sure of the person's gender or preferred pronouns, play it safe and use their full name instead of Mr. or Mrs.
Skip one line.
Read More: How to Address a Cover Letter with No Name
Body
Finally, we get to the meat of the letter. There is no hard and fast rule for how many paragraphs to include or how long your message should be, but there are a couple key points to know.
In your first two sentences you should reveal the goal of your letter. Then, provide any necessary background information or important details. Lastly, reiterate the reason for the your letter and request action on the recipient's part or let them know what to expect next.
Skip a line.
Sign-off and signature
When your message is complete, sign off with a formal closing such as sincerely, best wishes, or thank you.
Skip about four lines.
Type your name. The empty space between your sign-off and your typed name is where to put your signature after you've printed the letter.
If you're emailing you letter, typing your name below the sign-off is sufficient.
Professional letter format for email letters
If sending a physical copy of the letter is a little too 1980s for you, simply use the same professional letter format and send it as an email attachment.
If you're writing a formal letter within the body of an email, you can omit both addresses and the date at the. Instead, add your contact information and address after your name in your closing, and also make sure to include a very specific subject line.
Read More: How to Start a Professional Email (An Easy Peasy Guide)
General formal letter-writing tips
Always left-justify the text

Standard margins are 1–1.25 inches

Single-space lines and double-space between paragraphs

No need to indent the first line of a paragraph

Use Times New Roman, Arial, or other standard font, always in black

12-point font

Portrait layout (A.K.A. vertical)

If printing, always use white, 8.5 x 11 inch paper

Don't use informal or slang language

Be clear and simple, get to the point
Professional letter format example: letter of apology
Michael Scott
999-999-9999
Dunder Mifflin, Inc.
123 Office Ave.
Scranton, PA 18503

December 2, 2020

Jamila Gatz
Green Light Industries
456 Party Place
Kings Point, NY 11024

Dear Ms. Gatz,

It recently came to my attention that your latest paper shipment was delivered to you damaged. As regional manager, I would like to sincerely apologize for this error on behalf of the entire company.

We believe the recent inclement weather may have caused rainwater to seep into several of our delivery trucks, affecting a number of boxes.

As a business owner, we understand you run a tight schedule, so quick and accurate deliveries are critical to your business processes. A replacement shipment is being expedited to you free of charge and should arrive within the next 24 hours. Customer satisfaction is our main goal, so we would also like to offer you 10 percent off your next order.

Please send confirmation when the replacement shipment arrives and also let us know if there is anything you need in the meantime.

Thank you for your business, and again, our sincerest apologies.

Sincerely,

<INSERT SIGNATURE HERE>

Michael Scott
Read more: How to Write an Email Like the Professional You Are