What does a product manager do?
Product managers work directly with a company's products and services. They do things like develop and improve products, implement their use, measure and evaluate their success, and study ways to make the company's products more competitive.
It's pretty common to see product managers working in STEM fields, like software, tech, cyber security, and finance, but you can also find them managing consumer retail products, like cosmetics and greeting cards, for example.
To give you a better understanding of what the job can look like, we spoke to three women at different points in their careers with different backgrounds who work in product management, starting with our very own product manager, Sunny Lin.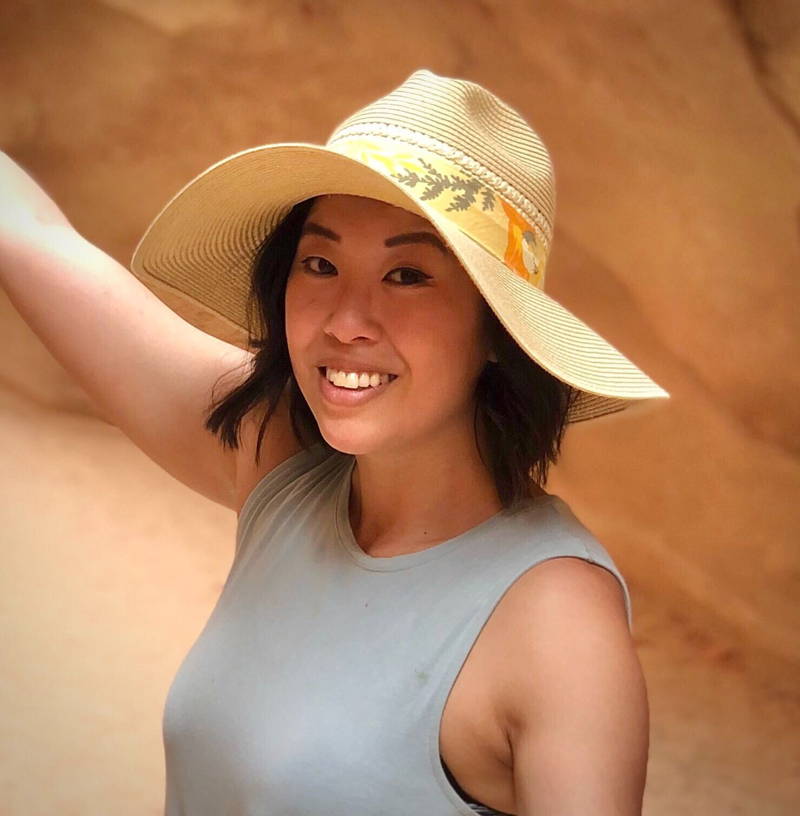 Sunny Lin
Junior product manager at InHerSight, in product management since 2019
What's your background?
I'm an engineer by education, but I spent the five years before my role at InHerSight starting two restaurants.
How did you end up in this role?
I wanted to find a job that would fit my new personal needs and a more balanced work-life schedule. I also knew I didn't want to return to a big company. I wanted to work with a team that still had entrepreneurial energy. So, I talked to mentors who helped me narrow down my job search to a role in product management, a role that combines my management and engineering experiences.
What do you do for the business as a product manager?
I manage a couple of different channels related to user engagement, but the biggest two channels are email and the app. My main goal is to understand our users and find ways to improve our product to be a more powerful tool for women.
What does a typical workday look like for you?
Usually it starts out with checking to see if there's an email to send. If so, I make sure whatever A/B test I am running that day with email is set and ready to go. Then I move over to app land. We launched our app this year and I still have lots to learn. The main thing I am trying to learn right now is how often are users coming back and what specific feature is best at attracting users back to the app.
The most recent project I've picked up is organizing focus groups of women with different backgrounds, by race, industry, parental status, etc. With these focus groups, I am trying to paint a bigger and more detailed picture of all women's workplace needs. I hope to translate what I hear into making a more impactful product for women.
What are the three most important parts of your job?
Organization: my road map

A well-designed dashboard

An team I can trust and learn from
What skills do you need to be a product manager?
Empathy, organization, and the ability to analyze data.
What's the toughest part of being a product manager?
As much as I love being in a small startup, I think the hardest part about my job is learning about product management on the job. It's a catch-22. A bigger company usually means more resources, but your voice often gets drowned. A smaller company usually means fewer resources, but your work makes a bigger difference. I can't say which one is better, but I feel lucky to be where I am.
What do you like about your job?
I love that I am always learning.
What's something people might be surprised to find is part of your job?
I brainstorm a lot about the perfect catch phrase for my next notification or subject line!
What would you say to someone who's interested in being a product manager?
Read Marty Cagan's book INSPIRED: How to Create Tech Products Customers Love. I read it before taking this role and I'm thinking about reading it again!
Read more: What Does a Customer Success Manager Do?
---

Ashley Berenson
Senior director of product management at Dude Solutions, more than 10 years in product management
What's your background and how did you end up in your current role?
I started my product career at American Express where I led the development of a prepaid debit card in partnership with Walmart called Bluebird. I then held several digital product management roles throughout the company. I then moved to ZX Ventures (innovation and venture arm of Anheuser-Busch InBev) where I led the product efforts for a beer ratings and review site called RateBeer. Most recently, I was the director of product management at TransLoc in Research Triangle Park.
What does a typical workday look like for you?
My days are never the same, which I love. Depending on the week, we are focusing on recasting roadmaps to ensure we are consistently delivering value to our clients and the business. We may be prepping for quarterly business reviews to share the highlights and opportunities for our products. I can't really say that there is a typical day in product management.
What are the three most important parts of your job?
Coaching and developing the team: Ensuring that the team has the support they need to effectively do their jobs is critical. I also love brainstorming ideas about ways we can make our products better and help deliver more value for our clients.
Cross-functional collaboration: To be successful, we must have strong relationships with our cross-functional partners. I spend a lot of time figuring out better ways of communicating, improving processes across groups, and helping other teams understand where we are taking our products, so that they can align their work to help realize the product vision.
Product strategy: We spend a lot of time thinking about how to develop products that will help us grow the business versus just sustain it. How can we leapfrog our competitors? What are our competitive differentiators? Is there a new market or segment we should go after?
What skills do you need to be a product manager?
Curiosity: The answers are never obvious in product management, so you have to ask lots of questions. You have to understand the "why."
Patience: You do not always get it right the first time. Sometimes you put something in front of clients/users and it does not quite solve the problem. You may need to do additional discovery to understand the problem further, iterate and measure—over and over.
Empathy: It's critical to understand and feel your client/user's pain points. It's true that a product manager should fall in love with the problem and not the solution.
Data driven: You should love using qualitative and quantitative data to inform product direction. Driving outcomes for clients/users is one of the most rewarding parts of product management.
What's the toughest part of being a product manager?
You are inundated with information from clients, internal stakeholders, market insights, competitive intel, etc., so you have to be an active listener and have the ability to translate these learnings into valuable products and services.
What do you like about your job?
It's creative and dynamic. Everyday we are figuring out new ways to solve important problems. Solving a client's/user's real-world problem and empowering them to do their job better is so rewarding.
What's something people might be surprised to find is part of your job?
Product managers are similar to general managers: They should understand how their products drive business outcomes and results. A PM's responsibility lies beyond just delivering software, they should influence how their product is priced, sold, implemented, etc. The more you understand the business, the better decisions you can make from a product perspective.
What would you say to someone who's interested in being a product manager?
Do it. It is equally challenging, rewarding, and fun.
Read more: How to Master to Elevator Pitch
---

Emily Hyman
Head of product at RoundTrip, in product management since 2017
What's your background and how did you end up in this role?
I studied systems (a.k.a. industrial) engineering, leaning toward a focus in health care systems and also minoring in engineering entrepreneurship. I've worked in health care tech since graduating college, primarily in client-facing data analytics and then product strategy roles. As part of my product strategy role at my last company, I was responsible for determining and executing on our strategy for the non-emergency medical transportation (NEMT) space. We ultimately selected Roundtrip as our partner, and after about a year of working on the partnership from the other side, I had the opportunity to join the Roundtrip team in this role.
What do you do for the business as a product manager?
I see the product team as the steady gatekeepers. It's our responsibility to look out at the horizon to see what's coming, and determine what to "let into" our application in order to protect ourselves from competitors while adapting to best serve the needs of our users and customers. As the head of product, it's my responsibility to ensure that we bring intentionality to our decision-making process, striking a balance between getting enough data to make informed decisions while also creating the space for experiments and hypothesis-testing. Along with the prioritization aspect of the role, I'm also responsible for our product "operations"—the nuts and bolts of how we go about prioritizing, discovering, planning, executing on, and releasing product features, enhancements, and initiatives.
What does a typical workday look like for you?
Honestly, it's a lot of meetings. I spend time with the product managers and designers on the team to help work through any roadblocks, bounce ideas around, and discuss growth trajectories and career goals. I also work cross-functionally to ensure alignment between what's being prioritized by the product team and the greatest needs of the business. Some meetings are focused on our strategy and where we're going as a product and an organization, while others are focused on process and how we execute efficiently and effectively. Overall, many of my meetings center around alignment, execution, and problem-solving, which is a pretty fun (but challenging) way to spend the day
What are the three most important parts of your job?
Communication: It's so critical that I'm keeping my team informed of any new happenings or shifts that might impact how we prioritize the work on our radar, and providing transparency to the rest of the organization of what we're working on.
Vision and strategy: This is both having my own vision and strategy for where our product is going and also determining the factors, attributes, and data we use to drive our strategic decisions. It's also the vision I have for the product team, what our responsibilities are, and how we operate.
Process: Whether it's software development life cycle, product prioritization, user research and engagement, or stakeholder management, there is a lot of focus in my role on how we go about our work in a streamlined, effective manner that has the discipline to keep us productive, but the flexibility to allow for creativity and innovation.
What skills do you need to be a product manager?
I'd say for product managers and for my role as head of product, communication, empathy, creative problem-solving, resilience, and intellectual curiosity are key skills or traits to have.
The product team sits between engineers and stakeholders, so you need to be able to understand the wants and needs of both internal and external customers (empathy), come up with innovative ways by which the product could solve for those user challenges (creative problem-solving), and translate them into clear user stories and requirements from which the engineers can build (communication). Along with that, you need to be able to respond and adapt quickly if things don't work out as planned or there are shifts in the market (resilience) and you need to have a desire to learn about new personas or workflows or market factors to ensure that you continue to build features and functionality that are relevant and effective (intellectual curiosity).
What's the toughest part of being a product manager?
Continuous communication and expectation setting (and resetting). Product development is rarely linear—there are shifts and twists as you work through challenges and opportunities which impact what you'll actually be delivering and when, so being able to navigate through that uncertainty and communicate effectively is definitely a challenge.
What do you like about your job?
I love that I get to work both with the members of my team and cross-functionally to discuss challenges and brainstorm solutions. I meet regularly with not only all of the members of the product team, but also representatives from the engineering, account management, implementation, service, transportation, and business development teams. You get so much exposure to every area of the business working in the role I'm in, which opens you up to new challenges, experiences, and perspectives.
What's something people might be surprised to find is part of your job?
This is a tough one because while I do feel like I wear a lot of hats, they all make sense. There is a good amount of project management involved, making sure that all of the pieces are coming together at the right time and being communicated effectively. With product management, it's more than just getting things built, it's also thinking about how changes need to be communicated to customers, what downstream impacts there may be, how training may need to change, etc., so I'm sometimes working with the product managers to think through all of those pieces and how they come together for a successful release of new features or functionality.
What would you say to someone who's interested in being a product manager?
Working in product is a really great jumping-off point to head in a lot of different directions. Within a single role, you're having to learn and think about how things are actually built, who your customers are and what challenges they are facing, how to effectively market, sell, and implement the features being built, and the "why" behind all of it. That experience can serve as a catalyst for a variety of career paths, and you get to solve some fun problems and build some cool stuff along the way. It's a pretty sweet gig if you ask me.
Read more: Why 60% Is Qualified Enough, According to a Recruiter