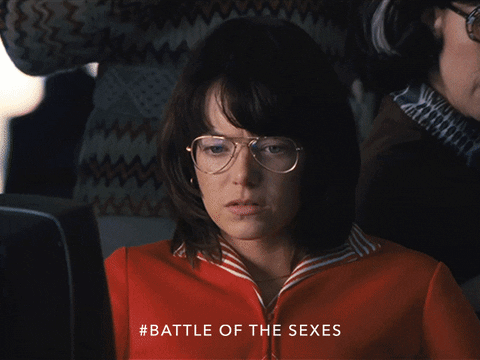 Alicia Ramirez is a Los Angeles-based writer and designer. She has worked for newspapers in her home state of Texas and Chicago, including a stint at the Chicago Tribune. You can find her on Twitter @aliciak2010.
When we think of equal pay, we tend to think of office jobs: two marketing managers, a man and a woman, earning disparately different salaries despite doing the same job. But the issue of pay equity exists on both micro and macro levels, and the best evidence of that isn't in the office at all. It's in the arena.
After winning the US Open in 1972, Billie Jean King received $10,000. Ilie Nastase, the men's champion, was awarded $25,000.
One year later, the US Open became the first Grand Slam to offer equal prize money, after King lobbied and threatened a boycott. It took another 35 years for the rest of the tennis majors to follow.
The Australian Open, which previously offered equal payouts but reversed course in 1995 citing a lack of interest in women's matches, reinstated its equal prize policy for 2001. And, after a lobbying effort by Venus Williams, the French Open introduced equal prize money in 2006. Wimbledon followed in 2007.
More recently, the World Surf League announced it would begin offering equal prize money to competitors this year.
But prize money is just part of an athlete's income, and female athletes continue to earn a fraction of what male athletes make in salary and endorsements. Only in Alpine skiing, where Mikaela Shiffrin is dominating the World Cup and out-earning men because of it, can you find a true example of a sport with no gender pay gap. And even she was not on Forbes' top 100 list of the highest-paid athletes in 2018—no women were.
Read more: What to Do When You Find Out Your Male Coworker Makes More Than You
To combat what they called a gross pay disparity between the U.S. men's national soccer team and the U.S. women's national soccer team, five players—Carlie Lloyd, Hope Solo, Alex Morgan, Megan Rapinoe, and Becky Sauerbrunn—filed a wage discrimination complaint in 2016 with the Equal Employment Opportunity Commission against the United States Soccer Federation.
Earlier this year, the EEOC issued letters to the four women still on the team allowing them to sue since no progress had been made. (Though the players and the federation ratified a collective bargaining agreement in 2017, mediation efforts over the 2016 lawsuit failed giving the women the ability to sue in federal court.) On International Women's Day, 28 women on the team filed a lawsuit alleging the federation perpetuated gender-based discrimination in nearly every aspect of their employment.
Carlos Cordeiro, federation president, said in a statement posted to Twitter that the federation was "committed to working with our USWNT players and understanding specifically where they believe improvement is needed."
Read more: Your All-Encompassing Resource Guide to the Gender Pay Gap
One example provided in the suit was the pay difference for World Cup appearances. According to the suit, the men's team received $5.4 million in 2014 after losing in the Round of 16 of the World Cup. The women's team received $1.7 million in 2015 for winning the World Cup. That's right: winning.
Other American women have fought and are currently fighting similar battles.
The U.S. women's national hockey team recently celebrated a four-year agreement with USA Hockey that increased base pay and introduced performance bonuses for the first time. The move came after the team threatened to boycott the 2017 world championship.
And this past fall, the Women's National Basketball Players Association announced it was opting out of its current collective bargaining agreement with the WNBA to negotiate for better pay, better working conditions, and better media coverage.
"It's about what the excellence of female athletes can mean in a more universal sense — with enough investment, and resources, and respect," wrote Nneka Ogwumike, forward for the Los Angeles Sparks and president of the WNBPA. "We're opting out of our CBA because of the world we want to live in. …
"The future is bright—bet on it," she continued. "Bet on women."
This article is part of InHerSight's month-long coverage of equal pay. Timed with Equal Pay Day, the series looks at how the pay gap affects women of all backgrounds and in all industries.