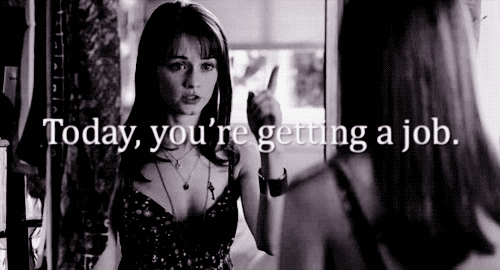 Alright, you need to get a job fast, so we won't waste any time here.
But, before we get going, there's something you should know: If you don't need to get a new job fast, then you should take your time.
If you hate your coworkers or are dealing with a difficult boss, it's understandable that you want a new gig ASAP, but if you're still employed, consider looking for the right job, not the first one that comes along. You may thank yourself in the long run.
With that said, let's get you back to work.
9 steps to getting a job fast
1. Beef up your LinkedIn
When you're applying for jobs, employers will be Googling your name and searching for you on LinkedIn. Make sure you LinkedIn profile is up to date, includes a summary, and notes that you're looking for a job (you can update this in your profile settings).
Use this guide to spiff up your profile: How to Build a LinkedIn Profile That Demands Attention
2. Start an online portfolio
Especially if you work in a creative field, like writing, design, animation, product design, etc., you should create an online portfolio to showcase your work. Sites like Squarespace, Wix, and Weebly have inexpensive and even free options. (Here's a longer list of sites where you can build your personal website.)
Be sure to include work samples, your resume or CV, and an "about" page that mentions you're in the market for a job. Don't forget contact information.
Share your portfolio on social media, especially LinkedIn, and let people know you're on the job search and hope to move quickly. Ask friends and connections to pass it along to their contacts.
Don't forget to include a link to your digital portfolio on your resume as well.
Read more: Can't Find a Job? Here are 26 Quick Actions You Can Take Today
3. Warm up your connections
It's estimated that upwards of 80 percent of jobs are never posted. Further, only about 7 percent of job applicants come through referrals, but those referrals account for about 40 percent of hires. In other words, who you know makes a difference.
Call up a few connections, and ask them to get coffee. Let them know you're looking for work (and are kind of in a hurry). Message them on LinkedIn or shoot them an email or text and let them know you're looking. Ask if they know of any positions or companies that might fit and whether they could make an introduction. If there's a specific company or industry you have in mind, ask for introductions there too.
Read more: How to Use Your Network Without Being Annoying
4. Tell your friends
Much like professional connections, personal contacts can be ultra valuable in finding work quickly. Tell friends, former colleagues, old classmates, your aunt, the barista at your favorite coffee shop. Spread the word that you're looking for a job.
Post on your social media channels that you're looking for a job—and be sure to make the post public.
5. Make applying for a new job...your job
Obviously, this is easier said than done. You might still be working full-time or taking on part-time work, or you might have kids or a parent to take care of. As much as you can, devote your spare time to applying for jobs, warming up your connections, and really perfecting your resume and cover letters. Block off time on your calendar and make it your job to find a job.
You don't need to apply for every job you see. Higher quality, lower quantity is key in quickly landing a job that you will actually enjoy.
Read more: Laid Off, Fired, or Terminated? What to Say When They Ask.
6. Stay organized
Use a spreadsheet to keep track of the jobs you apply for and when you sent in your application, when you can expect to hear back. Make note of coffee meetings or emails sent, whether your colleague said they could pass along your name to that manager at that company you're eyeing.
This written record will help you keep track of leads and when to follow up, so nothing slips through the cracks.
Read more: What to Do If You're Not Getting Called Back—Ever
7. Write a letter of interest
If there's a company you're interested in working for, but don't see any open positions posted, you can write a letter of interest. Sometimes called a letter of inquiry, a letter of interest is a letter written to an employer to express interest in working for them, often if there's not a relevant job opening published.
Here's a guide: How to Write a Letter of Interest That Gets You Noticed
8. Get really good at following up
There's an art to following up—after a coffee meeting, after you submit an application, after a phone interview, after an in-person interview.
A general rule of follow-ups is the 3x3 rule: You can follow up with someone a maximum of three times, with at least three days in between each contact.
Here are the follow-up guides you need:
9. Practice your interview skills
Before you even get called in, you should be practicing your interview skills. Ask a friend or family member to play the interviewer so you can practice answering questions and talking about your skills and experience. Don't forget to practice phone interviews as well.
Read more: The Ultimate Guide to Preparing for an In-Person Interview
10. Ask for an informational interview
Contact a professional you admire or a company you'd like to work for and request an informational interview. This is your opportunity to ask for advice on your career and job search, and your chance to get face-to-face with someone who might give you a job, or at the very least, connect you to someone who can.
Read more: 48 Actually Useful Informational Interview Questions
11. Get matched to a company
InHerSight is good at more than just giving killer job search advice. We can also match you to a company that shares your values. Get matched.
How make money while you look for a job
Most of us will need a little cash flow while we look for our next gig. Here are a few ways you can still earn money while you look for a job.
Read more: 6 Ways to Make More Money You Haven't Thought of Yet
Take part-time work
If you normally work full-time but need to keep money coming in while you look for another full-time position, try a part-time gig.
Maybe you've always been interested in working at a flower shop, you're a beast in the kitchen, or maybe you're curious about what it would be like to work in a craft brewery. Taking on some part-time hours can help you design a schedule that lets you take interviews while you keep the cash flowing.
Apply for unemployment
If you've been laid off, you might be able to apply for unemployment. States determine who qualifies to collect unemployment benefits, for long, and for how much.
Take on freelance work
Sites like Fiverr and Upwork can help you find freelance projects for anything from writing and design to translation, voiceover work, programming, marketing, business and financial consulting, data entry, research, sound mixing, relationship advice, and more. Basically, anything you can think of, someone is likely willing to pay you for.
Consult
While you're contacting your network and warming up those leads, consider taking on some consulting work. A little different from freelance, consultants typically work on longer-term projects and often get paid a little more.
You might even reach out to former employers or clients who know you well and may have contract work for you. Who knows, that consulting work might even lead to a full-time job.
Try temp-to-hire work
Temp agencies can connect you to day labor, longer-term temporary jobs, and even temp jobs that can lead to full-time work. Is temp-to-hire legit? It certainly can be.
Try out gig work
You can try gig employment with companies like Lyft, GrubHub, Rover, Postmates, and Instacart.
Read more: How to Find a Job You Love (No, Really)