At InHerSight, our goal is to give you the insights you need to make the best decisions for your life and career, and our ratings data and scorecards for 65,000+ companies are a key piece of that equation. In this series, we're supplementing our cultural insights with answers to the important (and sometimes difficult to ask) questions women want answers to during the interview process.
This week we're talking to Malouf, a company that is committed to delivering high quality sleep products at an affordable price. Malouf was named one of 2018's top workplaces by Inc. Magazine. And between Malouf's resort-like office, a modern window-filled building complete with basketball court, gym, and full restaurant, the designation comes as little surprise. And top scores on InHerSight show that not only is Malouf one of the best workplaces of 2018, but it's also one of the best workplaces of 2018 for women.
Malouf
Interviewee: Krista Karn, Consumer PR and Copy Manager and Women of Malouf Director
Headquarters: Logan, UT
Industry: Bedding and sleep products
Size: 201-500 employees
InHerSight:
Can you start by telling us a little bit about Malouf?
Krista:
Sam and Kacie Malouf founded Malouf as newly-married college students in 2003. At the time, they were setting up their first apartment and wanted some luxury sheets. What they found was outrageous pricing for moderately good bedding, so they decided to create a better way to make and sell sheets. Today, the company distributes sheets, pillows, mattress protectors, bed frames, headboards, mattresses and adjustable bed bases to more than 10,000 retail stores throughout the U.S. and neighboring countries.
Malouf now has 300 employees working at the company headquarters in Logan, Utah and at distribution locations in Lenoir, North Carolina and Columbus, Ohio. Though the company has grown tremendously, the values and culture that Sam and Kacie created remains the same.
InHerSight:
What are your favorite company values and what are some of the ways you exemplify them?
Krista:
Malouf has eight core values that guide the business, and we put a great deal of time, heart and soul into thinking about those principles that will guide our business and our efforts.
One of our best values is Own It. It encourages every employee at every level to take pride and ownership of their job, to work with autonomy and to focus on the daily actions that determine our future. It's a great reminder to the women in the company that the hard work they put in every day is noticed and appreciated, and that great work and great ideas are what propel a person in their career with the company.
Be Kind is another favorite Malouf value. As a group, we thrive on positivity and optimism. We like helping each other and other people. There is a great deal of compassion in our company for each other and for others than can benefit from our kindness. We focus that compassion and positive energy in our day-to-day interactions and as we work through the Malouf Foundation to take on the global issue of child sex trafficking.
I think most Malouf employees think one of our best values is Make it Fun. We don't take ourselves too seriously. We want people to like coming to work every day. It's a sincere goal of the executive team that people enjoy their job, the people they work with, and a healthy work-life balance. You just never know what kind of fun party, game, or surprise is waiting when you show up at Malouf.
InHerSight:
What would you tell prospective female employees about why your company is a great place to work?
Krista:
We would love prospective female employees to know that Malouf is a great place for every employee at every stage in their career to contribute and grow. The company offers huge opportunities for any employee that can show their worth through their work.
Malouf is a place that values family. With fully-paid insurance premiums and paid maternity and paternity leave, it shows in the benefits package. Flexible schedules are common, and working mothers have a great deal of support in returning to work in a time and manner that works for them.
At the start of 2018, female managers were encouraged by corporate executives to start a mentoring and support group to help the women in the company navigate leadership, be heard in meetings, adjust as a working parent, and take on other issues that affect women in the workplace. The Women of Malouf group kicked off with a February Galentine's Day brunch where great discussions and new friendships formed over waffles.
As a woman who has worked for the company for some time, I believe women are encouraged to take risks, take on new responsibilities, grow talents, contribute to important conversations, and to point out where the company can do better. One thing that stands out is our CEO's focus on families.
InHerSight:
Can you share data on your company's diversity?
Krista:
I don't have a lot of data on diversity, but I do know that, of the 18 internal departments of the company, six are headed by women. In addition to one-third of managers being women, a number of team leads are women. Women hold key positions across all company teams, including analytics, accounting, content, design, photography, and warehouse/distribution.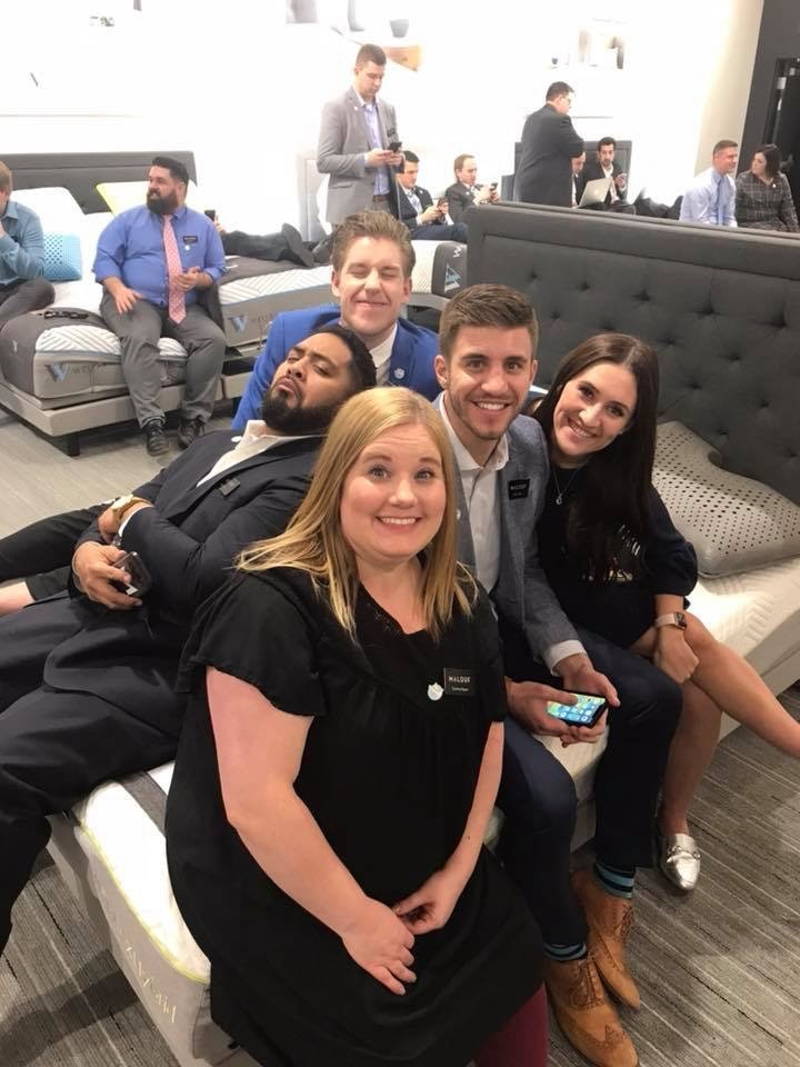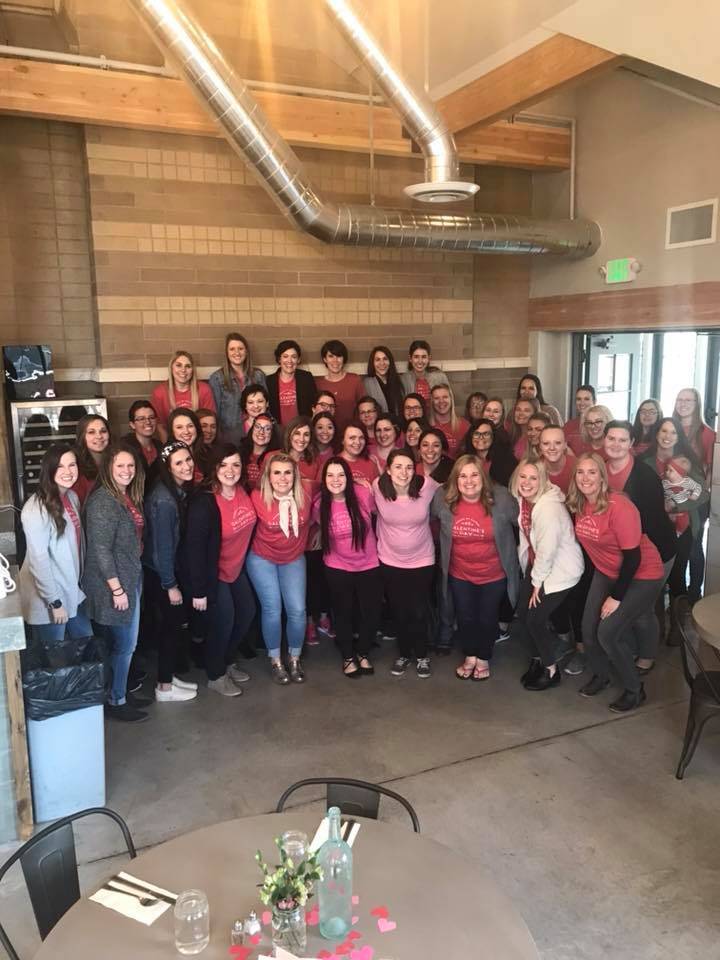 InHerSight:
How does your company view diversity and seek to develop it?
Krista:
As a company, we know diversity makes us better. One of the ways we have sought diversity is by expanding our reach for hiring new talent. In the past two years, Malouf has used new employee review sites, hiring tools and employment networking sites to reach beyond traditional hiring pools and the local market to gain more diverse talent.
InHerSight:
Are there initiatives or support structures in place for minority groups?
Krista:
Women of Malouf is a networking, development and support group that bolsters women in the company. The group looks at ways women leadership improves the workplace and finds ways to support women as they grow in their careers. Some of the things the group does include talking about common issues among female employees and ways to overcome shared challenges, supporting women returning from maternity leave, encouraging women to take risks in suggesting ideas and processes, enhancing work skills, and sharing tips for making work/life balance a little easier.
This group has incredible support from executive leadership, human resources and managers within the company.
InHerSight:
Does your company have executive level support for diversity?
Krista:
One of the unique things about Malouf is the access all employees have to executive leadership. It's simple for any member of the Malouf team to contact, schedule time and meet with executives. Employees have unprecedented access to Sam Malouf, and he takes concerns and suggestions to heart with swift action.
When it comes to support for diversity, Malouf executives rely on company values, like acting with integrity and seeing the big picture, to support diversity. The company also works with a corporate trainer to identify weak spots and put plans in place to improve them.
InHerSight:
What channels do you have in place for escalating issues like sexual harassment and how does the company ensure it is creating a safe work environment for all employees?
Krista:
Managers meet one-on-one with employees monthly to identify potential problems or issues, to remove obstacles, and to improve the workplace. All managers and employees are trained in practicing psychological safety in conversations and meetings. Malouf expects all interactions in the workplace be conducted with respect and with the knowledge that any topic can be brought up without fear of mockery, dismissal, retribution or negative consequences.
In addition to one on ones with ground rules that support discussing issues like sexual harassment, department managers and team leads undergo monthly training on all issues of compliance, safety and best practices.
Management team members are also required to participate in 360-degree reviews by an independent consultant who asks difficult questions that expose weaknesses and issues that might lessen any employee's ability to feel safe or respected. Employees are chosen to provide anonymous feedback on manager and team performance. Then, follow up questionnaires are sent to those employees to determine whether progress is being made.
InHerSight:
Nearly 40% of women leave the workforce when they have children. How does your company support working moms?
Krista:
Malouf provides paid maternity leave for female employees and works with each employee to create a return plan that accommodates a new mother's schedule. Some new moms work from home before beginning back at the workplace full-time. The company offers flexible schedules for all employees to support family time.
Family is important to Malouf. Sam and Kacie ran the company on their own for seven years before hiring their first employee. On many nights, that meant processing orders in bed after their own children went to sleep. They respect the adjustment of new moms, and believe that happy employees do great work, so family time and balance is always respected.
The working moms of Malouf also created a private Facebook group that allows for sharing of tips, ideas and encouragement for one another. This is a special place to celebrate victories and share in the hardships of working moms that are sometimes best understood by those in similar situations.
At the end of the day, Malouf wants to keep every employee it hires, and is constantly working to improves its benefits, culture and practices to keep working moms.
Through the Malouf Foundation, the company supports Citizens Against Physical and Sexual Abuse, a non-profit domestic violence, sexual abuse and rape recovery center. This support helps other women in the community – those with the greatest need – find career training and child care so they can work and raise families in a safe environment.
InHerSight:
What diversity, inclusion, and cultural competence training have your managers had?
Krista:
Each week, managers and leads can attend training on topics presented by the human resources department. These training modules focus on fair interviewing and hiring practices, best practices in leadership, safe and respectful communication, and other topics that support inclusion and fairness.
In addition, the company recently utilized an anonymous employee engagement survey to identify weak spots and areas of improvement. This survey delivered results and comments that are used by an independent corporate trainer to create a custom training program available to all employees to improve the workplace.
InHerSight:
How do your company's recruiting efforts support a diverse workforce?
Krista:
Malouf has a long-held reputation for finding talented, hard-working people with initiative. The company hires on potential. In an industry filled with 20- and 30-year veterans, Malouf would rather find people of all backgrounds with good ideas and the desire to make a difference.
Company executives and those in charge or recruiting and hiring at Malouf meet with the local university to discuss issues like diversity and the future of the workforce. These discussions help all businesses in the area diversify their employee pool.
A great number of employees of the company have volunteered on service missions before starting college or careers. In all, Malouf employees speak 13 different languages in the office!
As the company grows, the desire to bring in fresh perspective and diverse experiences grows as well. That has led Malouf to cast a wider net in recruiting and hiring people to diversify the company, reaching outside the Northern Utah area to find talented employees.
---
Thank you, Krista, for answering our questions! If you're interested in learning more, check out Malouf's open positions, read about their benefits, and see ratings from the women who work there on the company's InHerSight profile .
Want your company to do a reverse interview? Send us an email at hello@inhersight or use our contact form to let us know.