According to the U.S. Census Bureau, the average American consumes 22 pounds of candy every year, which makes sense if you have a pulse from Oct. 31 through Feb. 14. The U.S. has a semi-official four-month candy season, and some of us have coworkers who fill office candy jars with our favorites year-round. (Thanks for keeping mine on reserve, Sandra. I mean that.)
Our sugar intake wouldn't be possible without the confectionery industry, the candymakers who keep our vending machines stocked, our trick-or-treaters sated, and our Valentines romanced. It's their job to make sure every holiday and, let's be honest, every Thursday around 3 p.m. are cheery and delicious.
For women, work is made all the sweeter because of efforts in the confectionery industry to place more women in leadership positions. In 2019, Michelle Buck, CEO of The Hershey Company, became one of just 21 other women to be the chairman of the board of a Fortune 500 company and Smarties Candy Company marked its 70th anniversary with three women co-presidents at the helm. Notably, Nestlé was also recognized in 2019 for advancing gender balance in the workplace by the World Business Council. (The award celebrated the outstanding business leadership of women like Ghazal Nemati, supplier and agriculture development manager at Nestlé who is working to advance sustainability in the company. Nestlé also pledged in March 2019 to accelerate the number of women in senior executive positions.)
View this post on Instagram
"For the first time in our company's history, we have women in executive leadership," says Liz Dee, co-president of Smarties Candy Company and a fifth-generation candymaker.
Dee, whose grandfather Edward Dee founded the company in 1949, has watched the company's leadership transition over the course of her 20-plus years at Smarties. As someone who worked her way up through the company—she started as an intern working on the company's first website and now oversees strategic planning and oversight and all business and consumer marketing—Dee says gender representation in top positions is important to helping women succeed.
"It's really difficult for women to think,'That could be me' when no one like you has been in that position," she says, adding that two of the company's three co-presidents are working moms, the office itself is dominated by women, and the factory has strong female representation.
Read more: Female-Friendly Company: What It's Like to Work at Scott's Cheap Flights
Susanna Zhu, vice president of commercial planning and U.S. supply chain for Hersheys, agrees. "Folks sometimes underestimate the value of role models," she says.
"We have lots of women in high-ranking positions. They are moms. They are wives. They have working partners. We have people who talk openly about elder care." Zhu says when employees see their female leadership taking time to manage the responsibilities of life, they feel they can do so as well.
Marlene Creighton, vice president of food sales, for Hersheys, says this visible work-life harmony has been incredibly impactful to her career at Hersheys thus far. She joined the team a year ago and travels all over the country for her job. (She's the reason you linger near the candy displays in grocery stores.) Creighton says it was apparent during the interview that the company was going to give her the flexibility she needed to spend time with her two kids. "It starts from the leadership, Michelle [the CEO]," she says. "She's the perfect example of people being able to have a career and a family."
View this post on Instagram
The importance of mentorship
Empowerment isn't just about climbing the corporate ladder, though, and despite its yummy end product, the candy industry is like other sectors: It hires for a lot of traditionally male-dominated positions that women struggle to break into.
Zhu's background is in supply chain technologies, a male-dominated field. She oversees everything from ordering ingredients to package design to inventory. Besides loving her job—"My job is easy. Think about all the wonderful candy we make."—Zhu says that mentorship programs at Hersheys are what make the company stand out, especially for women in her field.
Hersheys has designated mentorship groups for a variety of backgrounds, including for women in supply chain and technology. One mentor works with seven women and men, ranging in experience from early career to director level. A sponsor of one of the groups, Zhu says the support is invaluable and encourages management of all genders to play an active role in retaining and advancing female talent. "The mentors in these programs are both men and women because I'm a big believer in'he for she,'" she says.
Creighton dials into a mentorship group while on the road. She says the experience has been important to helping her deal with her changing career needs. "You start your career, and it's a little bit more about building confidence," Creighton says. "As you evolve, it's less about that because you're confident already. Then it becomes a need to balance family and career."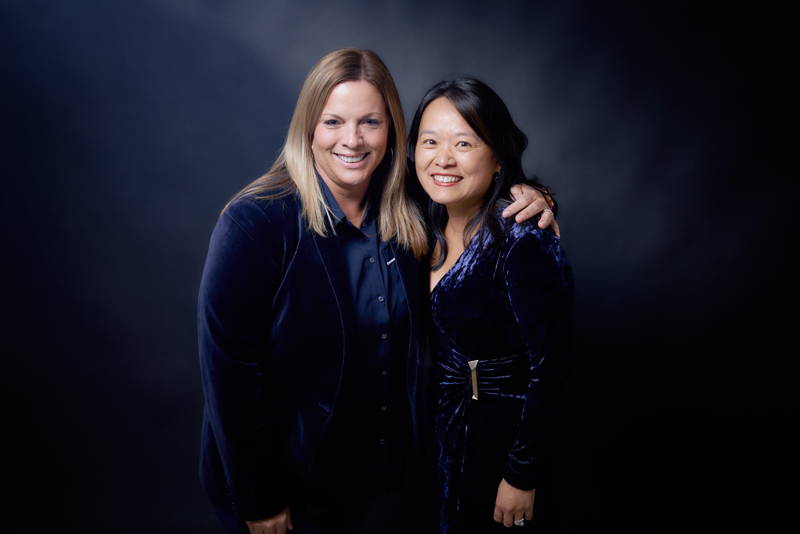 Pictured from left: Marlene Creighton and Susanna Zhu of The Hershey Company
But really...let's talk about the candy
Okay, so the candy industry has women in leadership and programs to support women in male-dominated fields, but is thinking about candy all day, every day really as fun as it sounds? Yes. Unequivocally, yes.
"We're focused on'moments of goodness,'" Zhu says. "Our jobs are hard, but at the end of the day, we put smiles on people's faces."
Creighton, who gets to see the end product line the shelves, loves what she does. "Every time I walk in stores, I smile from ear to ear," she says.
"Making a product that makes people happy makes you happy," Dee says, adding that people who work at Smarties tend to stick around for a long time. "We give our employees an insane amount of candy," she says, laughing.
View this post on Instagram

Happy International Women's Day!!! Team Smarties is led by our amazing Co-Presidents who send their sweet shout outs to all the mothers, grandmothers, daughters, sisters and aunties, out there!
The women behind the candy
Liz Dee
Who she is: Co-president of Smarties Candy Company
A project she's proud of: The recent Smarties' packaging redesign, which started rolling out last year. It's the first time in the company's history that they've rebranded. "I'm scared and excited," Dee says.
Favorite candy: Smarties, of course. She's a fifth-generation candymaker. Her earliest memory of the candy is competing to see how many rolls she could get in her mouth at one time. "Parents won't think that's safe at all," she says.
Susanna Zhu
Who she is: Vice President of U.S. Commercial Planning and Supply Chain for The Hershey Company
A project she's proud of: They just finished shipping their next batch of candy! Planning for each holiday starts more than a year in advance. So if a holiday is mere weeks away, and they haven't made the candy yet? "We have a bigger problem," Zhu says.
Favorite candy: "I've got a lot." The first one is PayDay because she loves the peanuts, and the second is artisan brand Scharffen Berger. From a marketing standpoint, Zhu says PayDay is targeted at blue-collar workers and Scharffen Berger at a more premium group. "I feel like I fit into both worlds."
Marlene Creighton
Who she is: Vice President of Food Sales, East, for The Hershey Company
A project she's proud of: Hersheys partnered with the new Addams Family movie for Halloween 2019. Creighton's team does quite a bit of research to understand shoppers and make sure candy displays come to life in exciting and relevant ways. "I wish I could send you a thousand photos," says Creighton, who visits many stores herself. "It's been a lot of fun."
Favorite candy: Milk Duds! "It's an oldie but a goodie. It reminds me of going to the movies. I'm in an airport right now, and it's raining outside. I kind of wish I had Milk Duds, a blanket, and a movie."