In the last five years, companies like Apple (3.5 stars), Facebook (4.0 stars), and Google (3.8 stars) have introduced egg freezing as a benefit to employees. Employers tout the policy as a means of family planning, while critics of the benefit say it sends the message that these companies would rather see their employees work than have children.
But a small study conducted in 2018 found that career is not in fact a leading reason women choose to freeze their eggs, but rather partnership—or lack thereof—is the primary motivation for women to postpone pregnancy in this way.
We polled more than 700 women about whether they have explored the idea of egg freezing as a means to pursue their career and whether they have gone through with the procedure.
Eighteen percent of respondents say they have considered egg freezing in order to pursue a career.
But in keeping with the aforementioned study, only a fraction of that have gone through with egg freezing for this reason—only 0.3 percent of respondents.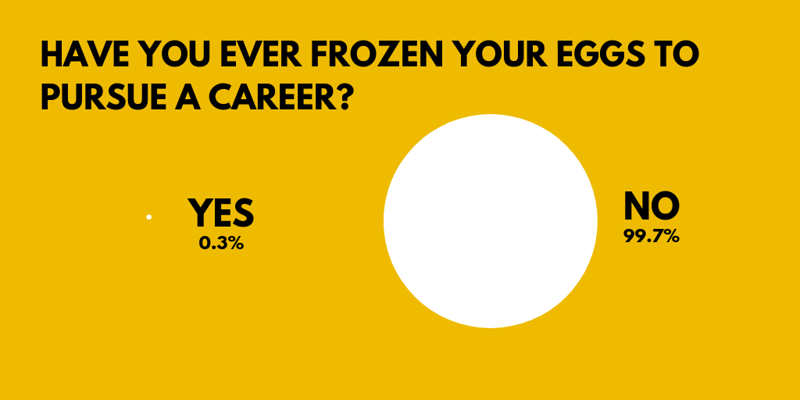 Egg freezing is expensive. Harvesting eggs can cost up to $10,000, and storing them can run you $500 each year. If a woman decides she wants to thaw the eggs and try IVF in the hope of getting pregnant, that can cost as much as $5,000—each time.
The fact that it's cost prohibitive may account for at least part of the reason why nearly a fifth of women entertain the idea, but less than 1 percent elect to freeze their eggs.
Read more:Can Freezing Your Eggs Really Help Your Career?
Methodology
Surveys conducted in August 2019. Company ratings accurate as of August 21, 2019.
Have you frozen your eggs: 791 women
Have you ever considered freezing your eggs: 779 women
InHerSight is a company ratings platform for women with ratings and reviews of more than 120K companies in the United States.