What's it like to work for the best of the best? Ask InfoTrust. They're #1 on InHerSight's list of Best Companies to Work For*, and they've earned placements on dozens of our other industry- and metric-specific top companies lists.
The privacy-centric digital analytics solutions company has focused on developing a company culture centered on support and flexibility since its inception. In fact, on InHerSight, they rate most highly for Ability to Telecommute, Paid Time Off, and Support for Diversity, with perfect 5.0s for each. And while they're already knocking anonymous employee reviews out of the park, InfoTrust is also committed to continuing to improve their culture—Grow Every Day is one of their core values. Their DEI programming, for instance, includes initiatives such as a Lean In Circle, which is a women's affiliate group that meets monthly to discuss a variety of women-related topics and offer support and celebration of work and life achievements.
We reached out to key contributors to InfoTrust's culture—one of their founders as well as women who work there—to find out what it's like behind the scenes at this top employer. Hear directly from them how InfoTrust supports employees today, and how they plan to evolve in the future to continue to support women employees.
Meet InfoTrust's CEO and cofounder Alex Yastrebenetsky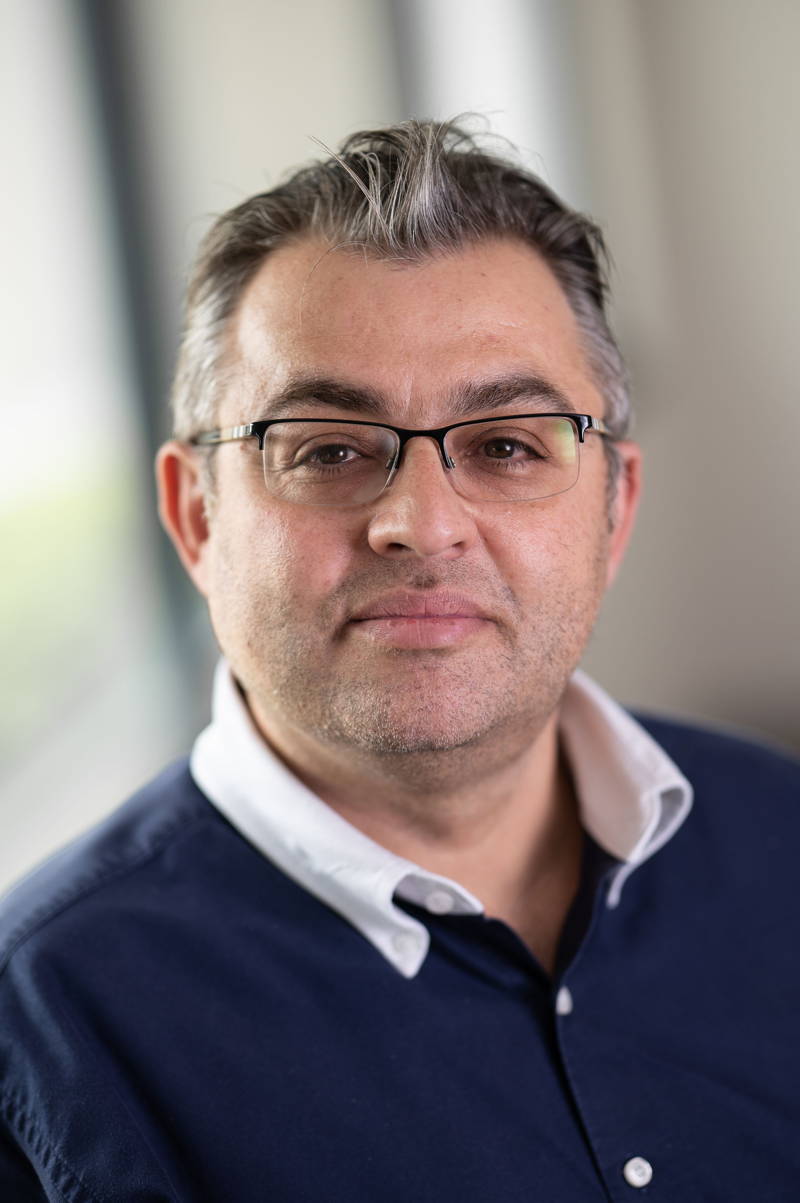 I am the CEO and cofounder of InfoTrust, a privacy-centric digital analytics solutions company based in Cincinnati, Ohio. I'm proud to say we are a fast-growing, global company that believes in giving back to the communities in which our team members live and in building a best-in-class workplace experience. I was born and raised in Kharkiv, Ukraine, and moved to the U.S. in 1994 to attend the University of Cincinnati. I'm extremely fortunate to have a wonderful wife and three children, and am constantly striving to learn how to better myself and our organization.
As a leader, what does diversity mean to you?
Diversity is a melting pot of not only physical and cultural differences, but also of ideas and experiences. At its core, diversity is about respecting one another and demonstrating empathy.
What in your personal or professional experiences led you to recognize the unique needs of women in the workplace?
I have had the very fortunate opportunity of participating in EO (Entrepreneurs' Organization), which eventually led to the floor of the United Nations. At the UN, small business leaders from across the globe met to discuss how we can impact the UN's sustainable development goals, including "[Achieving] gender equality and [empowering] all women and girls." As shared that day, "gender equality is not only a fundamental human right, but a necessary foundation for a peaceful, prosperous and sustainable world." At InfoTrust, we have embraced this mindset, and are working to achieve true equality in our workplace.
Beyond partnering with InHerSight, what are some ways you're already incorporating diversity, equity, and inclusion (DEI) into your company's culture?
We are currently developing our three-year DEI roadmap, starting with 1:1, candid interviews across our organization. In addition, InfoTrust has sponsored the Digital Analytics Association's Compensation and Benefits Study, with the findings available to all DAA members. This study shines a light on not only pay and benefit standards across our unique industry (web analytics and technology), but also helps ensure fairness in our pay as we apply the findings to our own compensation plan. We also have ways that people can share their voice, listen to others' perspectives, and celebrate our differences through different programs such as our employee-led "Beef Up Your Brain" sessions and employee resource groups.
What are some of your diversity goals over the next 12 or 24 months?
At InfoTrust, we are working toward delivering our diversity and inclusion roadmap that will in turn be reflected in our goals for the next quarter, year, and years to come. Our aim is to identify key areas and look at both the behaviors and systems that support our goals. As with our client projects, this will require a "crawl, walk, run" approach. And although "Promote Diversity" is already one of core values at InfoTrust, we are working toward ensuring that, as we scale, those goals are more clearly defined and there is alignment and transparency across the organization.

InfoTrust makes number crunching easy, both for their clients and for us data nerds here at InHerSight. The analytics consulting and technology company helps global brands understand their digital marketing data, and on our end, they do so with practically perfect scores. Their top metrics are Ability to Telecommute, Paid Time Off, and Support for Diversity, with 5.0s all around. We'll let you do the math. Click to learn more about InfoTrust's ratings, benefits, and open jobs!
Learn more ›
What it's like to work at InfoTrust, according to three women employees
Danielle Perkins
Account Executive
"What really makes InfoTrust stand out is the culture of caring. More specifically, the company and leaders care about each person as an entire person, recognizing that work is just one aspect of what we do. Whereas at other companies, you try to squeeze doctor appointments and personal obligations around the edges, InfoTrust has a whole 'Out of Office' channel in Slack where people publicize when they are stepping away. This really helps normalize the behavior and reminds employees that we all have a life to attend to."
InfoTrust in three words:
"Caring, smart, dedicated"
---
Courtney Fenstermaker
D2C Industry Team Manager
"InfoTrust truly respects their employees and treats everyone like the grown adults they are! Recently, I was able to end my day early to see my little sister cheer at her first varsity football game. It was a 'no questions asked' situation, and I didn't feel guilty wrapping up a few hours early. To see my sister's face light up when she saw that I was there meant the world to me; in previous roles, I missed out on a lot of family commitments due to rigid schedules and a traditional 9–5 workday. At InfoTrust, I've never felt forced to decide between professional growth in my career and being present and engaged with my family and friends."
InfoTrust in three words"
"Purposeful, autonomous, trusting"
---
Marilynn Lopez
Senior Client Success Operations Manager
"While the benefits at InfoTrust are great, I would say what stands out the most is the culture. I've come to realize the core values aren't just something InfoTrust adds on their website and then forgets about. We all contribute and do our part in fostering and maintaining a positive and supportive environment. Even before my official start date, I felt like a key member of the team. I remember a package arriving at home with some welcome goodies from Cincinnati and a handwritten note from my manager, Stacey!"
InfoTrust in three words:
"Collaborative, transparent, innovative"