The image below has gained traction across multiple social media platforms in light of the recent deaths of Ahmaud Arbery, Breonna Taylor, and George Floyd. While I understand the clarification that this diagram is trying to provide, I'm not a big fan because:
Many of the items listed as covert or socially acceptable offenses are better categorized as institutional or systemic racism .

It can feel daunting to know how to be supportive in an environment riddled with systemic barriers.

This particular diagram makes it easy to say, "I don't do these things" or feel overwhelmed by how many terms you might need to look up.

Diagrams can shift conversations from humanistic ones to academic ones.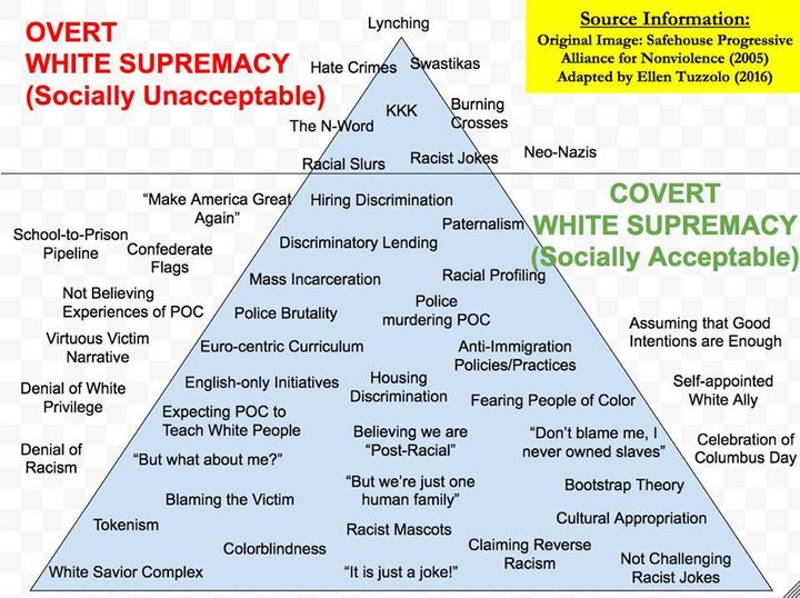 "Building a Multi-Ethnic, Inclusive & Antiracist Organization-Tools for Liberation Packet for Anti-Racist Activists, Allies, & Critical Thinkers,"Safehouse Progressive Alliance for Nonviolence,2005.
In an effort to remove the academic lens from this topic, I'm going to share some of the encounters I've had during my professional career and what others could have done to lend a hand.
I am seated waiting for a meeting to start. As the last few people enter the room, one of my coworkers makes his way over to the empty chair next to me. As he sits down, he says to the room of eight to ten individuals, "I couldn't see this empty chair over Nola's [natural] hair." Covert is when everyone else in the room sits silently and continues with the meeting.
Emotional Labor is closing my laptop and walking out of the meeting moments later to cry in the bathroom. It's asking the VP of my department if it looked like I had been crying when she came to check on me because I didn't want to draw attention to myself. I didn't want to make anyone else uncomfortable. Moving forward, I wore my hair differently so it had less volume—I made myself smaller.
At a department-wide offsite with close to 50 attendees, I'm listening to a woman from our HR team at the corporate office give a presentation when she looks across the room at the other black female and addresses her as Nola. When she's corrected, she says, "Oh, I must have gotten you two confused because you look so similar." Covert racism is when people stare, make faces, and mouth O-M-G regarding the error, but sit in silence.
It's when this HR rep asks my coworkers to introduce themselves before asking their questions, but when she gets to my Black coworker, she calls her Nola, because she's confident she knows the name of the Black woman in the room. Oh wait, there are two.
Sitting at my desk, an executive leader comes by and proceeds to put his hands in my hair and refers to it as a, "golden [highlights] Brillo pad."
Covert is sending me home for the day, to give me a breather. It's having HR remind me who he is and then ask what outcome is going to make me happy. It's having his secretary hand me what was described as an apology letter that I never read and throw away a few years later after finding it shoved in a book.
Covert racism is this: Mingling at a company holiday party with one of our new hires that I recently onboarded, others begin to join us. The recently hired woman gushes with shock in her voice—welcome to the south, where some of the meanest things are said with a smile—about how articulate I am and how impressed she's been to learn that during her training sessions I've completed. Covert is listening to people agree. Agree that my ability to speak English, the one and only language that I know, fluently and coherently is impressive.
Overt is attending a conference where one of the evening activities is hosted at a horse racetrack. A tour of the property is next on the agenda. As I am waiting for the tour to begin, I ask the guide if I'm standing in the right location. He says, "Yes, do you want to get up on the selling block? We can put a rope around your neck and lead you like we do the horses while we wait."
Covert is looking around at the 15 to 20 other conference attendees as they stand in silence. It's reporting your experience to leaders at the racetrack and being told what a nice man the guide is and that his Australian background means that he is unaware of America's history with racism.
Over the years, I've felt the stares to see if I'm going to say anything. I've written the formal complaints, had the HR meetings, and 1:1 conversations to educate. Then I think about my days on the playground or PE classes, when friends would get pushed, knocked down, or teased. Nearby friends would say something to the offender, return the insult or gesture, grab a teacher, help brush their friend off and assess wounds as only little kids can do.
Then we grew up and something changed.
So, if there's an ask, for the next time and the next person: Bring back that childlike mentality. Say something. Come with us to HR, or better yet, beat us there. Ask if we're okay and be willing to sit in discomfort with us as we say no, we're not okay.