At InHerSight, our goal is to give you the insights you need to make the best decisions for your life and career, and our ratings data and scorecards for 65,000+ companies are a key piece of that equation. In this series, we're supplementing our cultural insights with answers to the important (and sometimes difficult to ask) questions women want answers to during the interview process.
This week we're talking to Amrock, a company that's continued to work on its diversity and inclusion efforts even as it has undergone a rebranding (farewell, Title Source!). Learn how the company has made female empowerment a priority with generous accommodations for mothers and by holding their first annual Women's Conference, a day-long event full of panels and workshops — and earns top scores from women on InHerSight.
Amrock
Interviewee: Kylie Quetell, Vice President, Training and Development
Headquarters: Detroit, MI
Industry: Mortgage finance
Size: 1,001 to 5,000 employees
InHerSight:
Can you start by telling us a little bit about Amrock?
Kylie:

Amrock has been doing business for over 20 years, so we're established leaders in the mortgage finance industry. We're the nation's largest independent provider of title insurance, settlement services, and property valuations. We have around 2,500 team members working all across the United States, but despite our size there's very much the feeling that we're a close-knit family. We went through a major rebrand this year, so some may have heard of us as Title Source. New brand, but same great company that excels at client service.
What really sets us apart, though, is our fantastic technology services, our culture, and our talented team members. We actually like spending time together. We have a lot of team building activities, meetings and workshops all of which helps support a collaborative work environment. We have team members working all over the country, including nearly 550 team members that work remotely. This is in addition to our brick-and-mortar offices in Pennsylvania, Texas, California, Connecticut, and Alabama. Our headquarters are in vibrant downtown Detroit, Michigan.
InHerSight:
What are your favorite company values and what are some of the ways you exemplify them?
Kylie:
We're fully committed to creating an environment where there are open doors, open minds and an open culture, and this is best reflected in our company values which are coined as our "ISMs." One of my personal favorites is "It's not about who is right, it's about what is right." I think this one really stands out to me because it gives women confidence in the workplace. It doesn't matter who speaks louder, who has been here longer, who plays golf with who. At the end of the day, all good ideas are appreciated and that's what has made us great.
InHerSight:
How does your company view diversity and seek to develop it?
Kylie:
Our company is powered by a passion for diversity, and that's driven by our team members to build and support an environment that values inclusion. We do this both through our hiring practices and through our training and development courses. We have a variety of internal mentoring programs and community engagement activities to help us ensure that we're always being inclusive. For example, we recently had our first annual Women's Conference and it was a huge success. Over 1000 women attended a day-long event celebrating female empowerment in the workplace with inspiring panel talks from team leaders and team members in our organization. We also had a series of educational "breakout" workshops on topics ranging from juggling work-life balance to believing in yourself and learning how to be a leader. It was an amazing conference, and the response was so positive that we have plans to expand on the event next year.
InHerSight:
Are there initiatives or support structures in place for minority groups?
Kylie:
Yes! We have Team Member Resource Networks (TMRN). These are company-sponsored groups organized and led by team members to promote inclusion and diversity. They do this by forming groups based on things that are important to them (LGBTQ, military service, cultural heritage, professional women, etc.) and serve as outlets for conversation, connection, and a better understanding of shared values among our team members. Best of all, team members can join these groups at any time. We are focused on recruiting and developing diverse teams, and part of how we do this is by identifying and increasing the number of high-potential diverse team members based on annual performance ratings. We also have a set of initiatives in place to expand diversity on our leadership teams.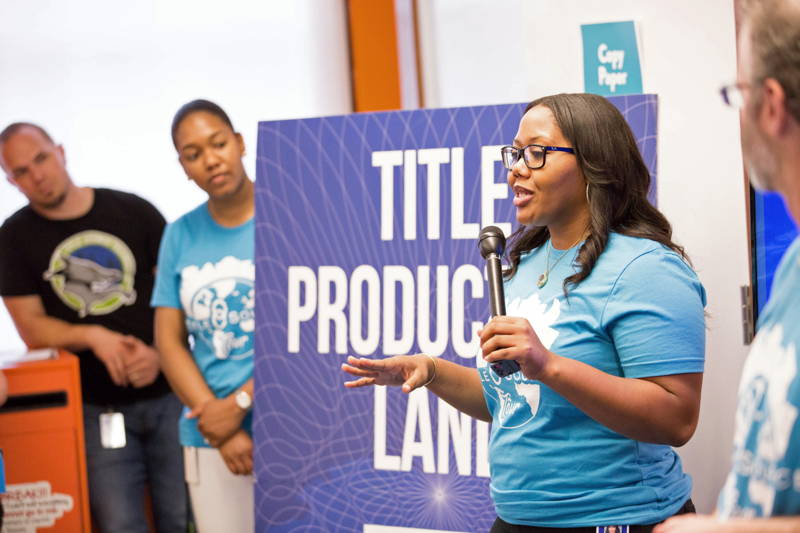 InHerSight:
Nearly 40% of women leave the workforce when they have children. How does your company support working moms?
Kylie:
We love our working moms! Before any of our team members even give birth we have amazing ways to support family planning. Our benefits are phenomenal, beginning with outstanding coverage for fertility treatment and adoption/foster support. Once pregnant we have special parking for our moms-to-be and comprehensive newborn delivery coverage. We offer up to 12 weeks of paid leave for mothers that have just given birth who have been with the company for a full year. There are also family rooms set aside in our buildings for nursing mothers and daycare discounts for parents. One of these partially subsidized daycare centers is located in our sister building across the street from our Detroit headquarters, so parents that work for us can keep their kids close.
InHerSight:
Finally, what diversity, inclusion, and cultural competence training have your managers had?
Kylie:
All of our team members go through training regarding inappropriate workplace behavior on their first day with the company. We don't stop there, though. Every person in a leadership role goes through diversity and inclusion training. We receive monthly videos highlighting the diverse backgrounds of our team members. We believe in more than just counting people to make sure we are diverse. Instead we focus on making sure that all of our people count.
---
Thank you, Kylie, for answering our questions! If you're interested in learning more, check out Amrock's open positions, read about their benefits, and see ratings from the women who work there on the company's InHerSight profile .
Want your company to do a reverse interview? Send us an email at hello@inhersight or use our contact form to let us know.