There is no federal law on the books in the United States that guarantees paid parental leave. In fact, there's no federal law that guarantees parental leave at all (the Family and Medical Leave Act (FMLA) makes some provisions for preserving a job while a worker is on leave, but does not cover all workers and does not mandate pay). In 2019, paid parental leave is largely at the discretion of employers.
The United States is the only developed country and one of the only countries in the world that guarantees no paid leave after the birth of a child. According to the U.S. Department of Labor, just 14 percent of workers have access to paid family leave.
Five states and Washington, D.C., have paid parental leave laws. California is one of them, though the 55 percent of pay workers receive for six weeks is funded by employee-paid public disability insurance. In 2016, San Francisco became the first city in the country to require employers to make up the remaining 45 percent.
We conducted a survey of 8,000 women to understand their feelings toward employer-paid maternity leave.
87% of women believe employers should provide fully paid maternity leave
An overwhelming majority of women—87.4 percent—believe that employers should provide fully paid maternity leave. That is, the employer would pay a woman 100 percent of her salary while she is on maternity leave.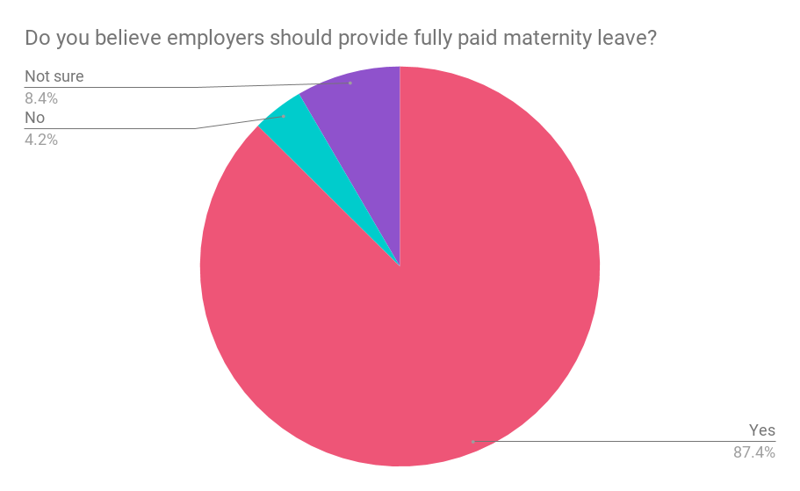 And nearly as many believe employers should provide fully paid paternity leave
When asked about paternity leave, 77.6 percent of women say that employers should provide fully paid leave for fathers as well.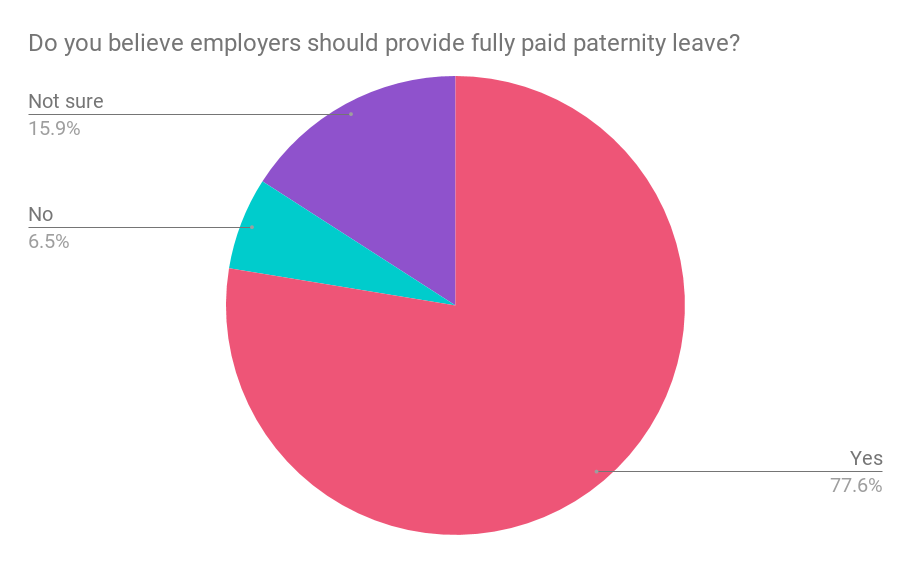 Companies that provide paid parental leave
While paid parental leave is still not a common practice in the United States, the number of employers offering paid leave is rising, albeit slowly. According to the Society for Human Resource Management, the number of employers offering some form of paid parental leave increased to 27 percent in 2018 (up from 17 percent in 2016).
The tech industry is known for its strong parental leave policies. Netflix (3.9 stars) provides 52 weeks fully paid, Microsoft (3.4 stars) and Airbnb (3.7 stars) 22 weeks, and Twitter (3.8 stars) and Amazon (3.0 stars) 20 weeks. In April 2019, Hewlett Packard (3.0 stars) announced it would begin offering six months fully paid leave. The tech company previously offered just ten.
Methodology
Survey of more than 8,000 women in April 2019.
Company rating snapshots, indicated in parentheses, were taken on May 1, 2019.