The finance industry has historically been known for being male-dominated, but future-thinking organizations like Northwestern Mutual are evolving to make gender equity a priority.
Its goal is ensuring diversity and inclusion are woven throughout the business, and one important component of that is being a company of choice for women. The company is bringing that to fruition by creating an environment where women thrive because they are supported by opportunity, development, comprehensive benefits and an inclusive culture where everyone can do their best every day.
But don't just take our word for it. Hear directly from Krista Brookman, the company's senior director of diversity and inclusion, on how the programs she oversees, all of which support women, are driving change at the 165-year-old financial services company.
---
Krista Brookman
Senior Director of Diversity and Inclusion
First, tell us about your background in diversity, equity, and inclusion (DEI) and how you ended up in this role. Why did you choose Northwestern Mutual?
I've always been interested in humanities and social sciences. Even when I was a little kid, I wanted to see everyone competing on a level playing field. That interest and focus on justice carried through into my professional career. When it comes to diversity, equity and inclusion (DEI), the social science aspect of what we're doing is trying to understand how people relate to each other across differences. There's also a component of helping to influence and convey why DEI is so important, which is grounded in research, understanding those concepts, and being able to articulate those to our business partners.
Prior to joining Northwestern Mutual, I had the opportunity to work for a global nonprofit research organization focused on women in the workplace where I led the development and delivery of new products and programs for Fortune 500 supporters. Working there and being grounded in research about the challenges and barriers women are facing in the workplace was monumental for me. It greatly enhanced my understanding of DEI, both generally and personally. There's research that backs the experiences of women in the workplace and what we need to do to move forward.
I came to a point in my career where I was ready to apply the knowledge and insights I had gleaned from all this work. When I saw the job in diversity, equity, and inclusion at Northwestern Mutual, I knew it would be an exciting role where I could be a part of a talented team committed to moving the DEI needle. The newly created position focused on aligning and integrating Northwestern Mutual's Women's Initiative across the enterprise. The strategic approach of bringing together stakeholders with a shared purpose to create collective impact really resonated with me. This also aligned perfectly with my background and passions, and I was excited to join the team and start jumping in.

Sponsored
Northwestern Mutual
Northwestern Mutual has been helping people and businesses achieve financial security for 165 years. Rated most highly for Support for Diversity, The People You Work With, and Flexible Work Hours, they receive top-notch reviews like this one from a very satisfied rater: "Norwestern Mutual offers fantastic growth opportunities and leadership really listens to its employees. They are transparent in their communication and offer a very inclusive and welcoming environment." Click to explore Northwestern Mutual's ratings, benefits, and open roles now!
Learn more ›
Your efforts specifically support women at Northwestern Mutual. What are some of your goals and how do you aim to achieve them?
One of the primary goals is focused on Northwestern Mutual becoming an employer of choice for women to grow and prosper. In order to do that, it starts with fostering a level playing field for women in our workplace through equitable policies, practices, and programs and extending that to the day-to-day experiences—we want women to be seen for the expertise they bring, heard and valued for their contributions and decisions, and have access to opportunities to grow. I think we're making big strides and are doing a good job of that. Women also need to see where they need to be—by which I mean, there needs to be visible female representation in senior levels of leadership. We're making strong progress.
In order to deliver these things, we're continuing to build out support for our female employees. We have thriving women's groups including our Women's Employee Resource Group (ERG), Women in Technology, VIBE (Visible Intentional Black Excellence), Women's Field Association, mentoring programs, continuing education, and leadership programs focused on career development and growth. In addition, our work with male allies is growing and is another area of opportunity.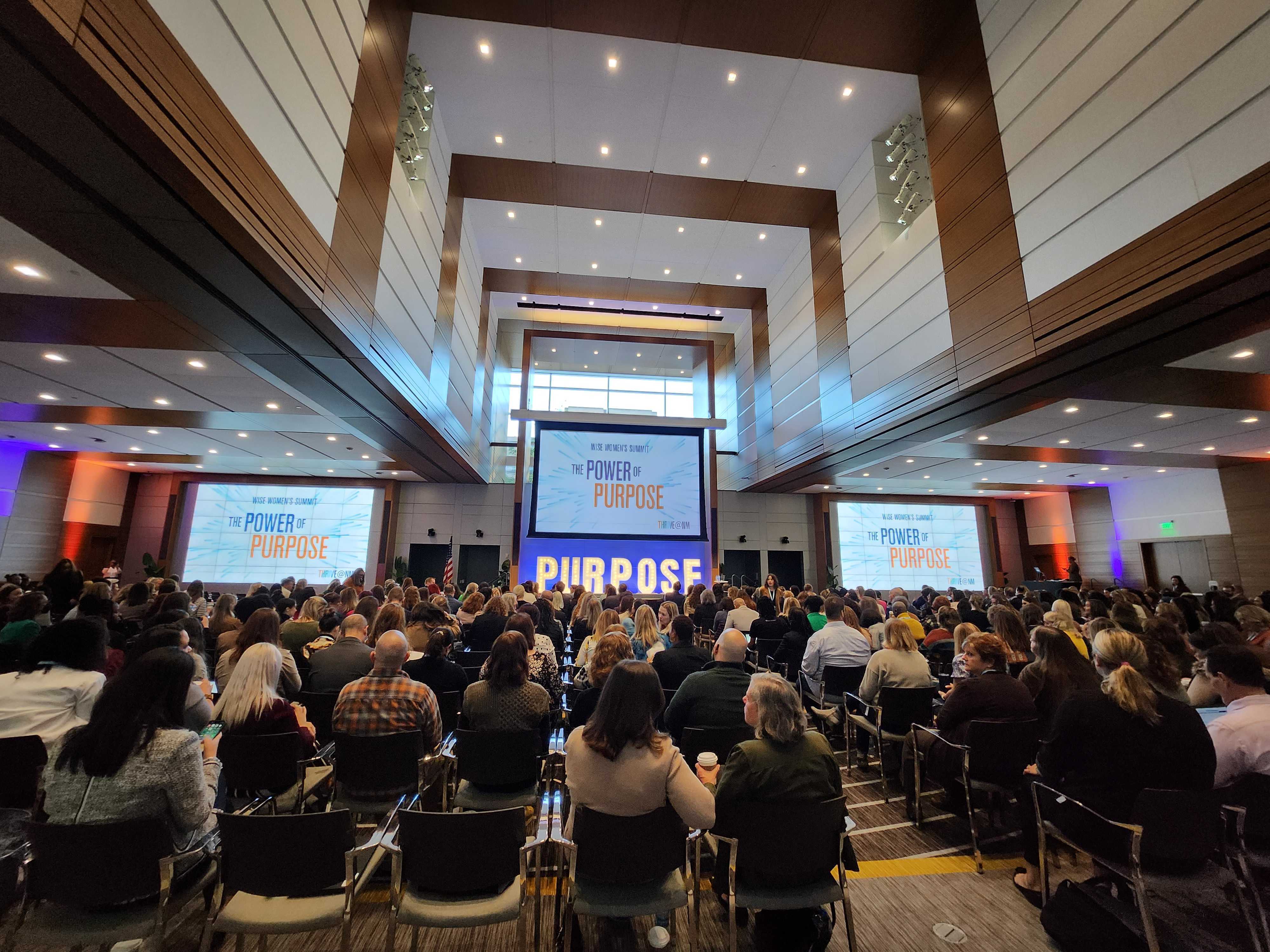 Northwestern Mutual's WISE Women's Summit
Northwestern Mutual has a number of events supporting women. When putting these events together, what are some of the key components that you think drive success?
We host several programs at Northwestern Mutual that support women throughout the year. When we're considering a program, we first think about what women are facing, feeling, and experiencing in the workplace. Second, we are intentional about looking at those experiences through the lens of intersectionality and inclusivity. Our goal is to be relevant, timely, and inclusive about the type of content, experiences, and support we're serving up. We want programming to be inspiring yet grounded and feel authentic and for women to find value in whatever event we're conducting. We like the mantra: "created for women, by women."
We recently hosted our first employee event, the WISE Women's Summit, for women and allies and saw major success with 1,400 attendees. We're also in the process of preparing for our 2022 Northwestern Mutual Women in Tech (WIT) Conference, which is a free virtual conference on December 1, where women allies and supporters spend the day focusing on closing the gender gap in technology with actionable content and connections to develop and uplift women across the business ecosystem.
As we're developing events like these, one of the other big components that we consider is ensuring that we can create impact and then measure that impact. We must think through the analytics because measurement is critical. It creates accountability for not only the current state but also future change or direction. Correlating the results of the programs to impact on employee satisfaction, retention, talent brand, growth/leadership development, and enhanced culture of belonging for women in the workplace are key to developing and continuing these endeavors.
A major aspect of DEI is recognizing growth. How has Northwestern Mutual's approach to supporting women evolved, and how has the company achieved that growth?
We are continuing on our 15-year DEI roadmap, which we first outlined 10 years ago. We continue to evolve and improve, more effectively dialing into the relevancy and importance of womens' wellbeing, where women would like support and opportunities to grow, what their needs are as working professionals, and calibrating the policies, programs, and practices that support these areas.
This year, we've focused on pulling together a cross-functional team to develop our Women's Initiative themes and the key pillars that we're delivering upon. We're then able to cascade our messaging, goals, and sentiment throughout the various verticals across the organization. We've brought additional stakeholders in, and our circle continues to grow as business leaders, partners, and allies focus on these important themes.
What advice would you give women thinking of joining your company?
Now is the time to be part of Northwestern Mutual. This is not your grandfather's insurance company. We've come so far in so many ways. We're a vibrant, modern, diverse, and inclusive company, and women will see themselves in our organization in various ways.
We have so many women who want to support and lift each other up. Through inclusive design of our programs, events, our Women's ERG, Women in Tech, VIBE, Women's Field Association, and our male allies and more, women are supported, celebrated and encouraged to learn and grow at Northwestern Mutual.