How old do you have to be to work?
Generally, to hold a job in the United States, you have to be at least 14 years old.
According to the U.S. Department of Labor (DOL), "As a general rule, the [Fair Labor Standards Act] sets 14 years old as the minimum age for employment, and limits the number of hours worked by minors under the age of 16."'
Additionally, some employers set their own minimum age requirements and young workers are prohibited from holding certain dangerous jobs. We'll talk about this below.
Hour limits for workers under age 16
Child labor laws in the United States stipulate the number of hours someone under the age of 16 can work. In the U.S., workers who are 14 or 15 years old can work:
3 hours on a school day

18 hours in a school week

8 hours on a non-school day

40 hours in a non-school week

Between 7 a.m. and 7 p.m., except from June 1 through Labor Day (basically, when school is out), when nighttime work hours are extended to 9 p.m.
These rules apply also to minors who work more than one job. "With specific exceptions, it is a misdemeanor to require any minor to work more than eight hours a day," employment law attorney Cynthia Flynn says. "One big land mine is that if a minor works two jobs, both jobs together cannot total more than the legal number of hours for the minor's age group and circumstance."
Additionally, your state may have its own laws about when you can work if you're under 16.
Do you need a work permit under age 16?
The Department of Labor does not require minors to hold a work permit or provide proof of age in order to work, but some states do. In most cases, it's your employer who will request to see a permit or proof of age, which you can get from your state's labor department or the federal government (if your state does not issue them).
To learn more about your state's requirements for work permits and age verification for underage workers, check out this page from the DOL.
Can you hold any job at 14?
The short answer is no.
There are some jobs that young workers cannot hold because they are dangerous, like certain agricultural or manufacturing jobs, or any mining or excavation job.
Other jobs you can't have when you're 14 include ones that require you to drive a car—because you have to have a driver's license—or operate heavy machinery. And some jobs, like waiting tables or bartending, require workers to sell or serve alcohol, and you have to be at least 18 (or 21 in some states) to do this.
States also have their own rules about which jobs minors are allowed to hold. For example, in Virginia, people under age 16 are not allowed to work in hotel room service, lifeguard at a beach, or perform certain duties in dry cleaning facilities.
Read more: How Many Hours Is Part-Time?
Can I get a job if I'm younger than 14?
Yes. There are some jobs you can hold under the age of 14. In many cases, the rules about how many hours you can work still apply.
"The FLSA prohibits employment of minors under the age of 14 except in certain limited occupations," Flynn says. "These occupations include certain agricultural firms, the entertainment industry, newspaper delivery, homeworkers in the making of certain wreaths, and employment on a farm owned or operated by a parent or guardian."
Delivering newspapers
In most states, you can deliver newspapers under age 14.
Working for your parent or guardian
If your parent or guardian owns a business, you can work for them (as long as your job is not one classified as hazardous). According to the DOL: "Minors under age 16 working in a business solely owned or operated by their parents or by persons standing in place of their parents, can work any time of day and for any number of hours."
Babysitting, house cleaning, and dog walking
You can be paid to babysit or perform other household chores in a private home under age 14.
Acting/modeling/entertaining
Kids can work under age 14 in entertainment as actors, models, voiceover artists, etc. These jobs are subject to hour limits and may require a parent or guardian to be present.
Read more: How to Write a Resume for Your Very First Job
How much will you get paid?
In most cases, your employer has to pay you the federal minimum wage, which is $7.25.
Many states also have their own minimum wage laws, and your employer has to pay you whichever rate—state or federal—is higher. You can check your state's minimum wage here.
Where to find a job as a teenager
There are lots of places you can find work as a teenager, but you should check your state and local age requirement laws as well as the employer's minimum age requirement.
In general, these are places where young workers can find a job:
Grocery stores

Restaurants / food service

Coffee shops

Retail stores, like bookstores and clothing stores

Movie theaters

Pools, beaches, or aquatic centers

Car washes

Amusement parks
Job search sites for young workers
You can also search the large job sites like Indeed and CareerBuilder for jobs by putting "teen" in the keyword field and your town in the location field.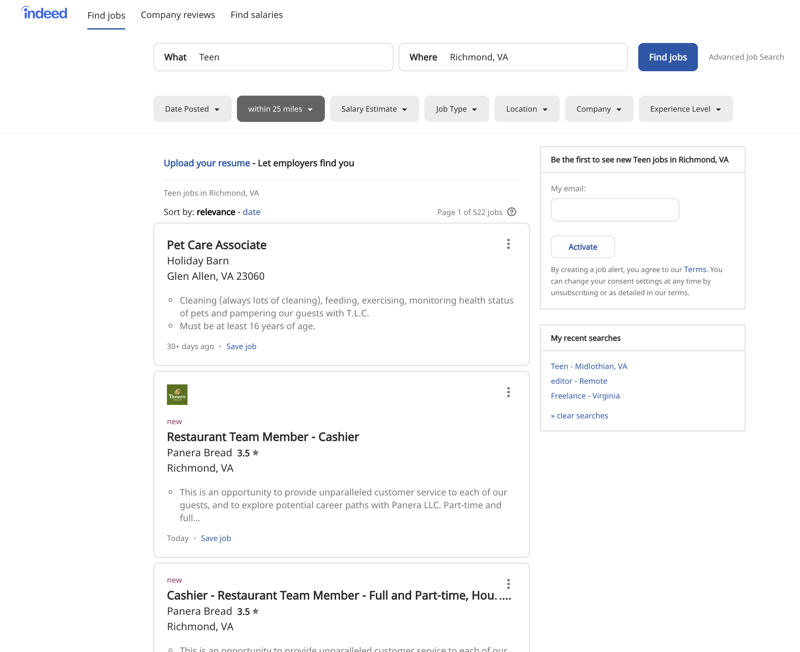 Read more: A Comprehensive List of Job Search Sites
About our source
Cynthia Hackler Flynn is founder and managing partner of Hackler Flynn & Associates. Flynn has been selected as a Super Lawyer for 2017, 2018, 2019, and 2020 for distinguishing herself in the practice of law. She has also been recognized as a Pasadena Top Attorney. Her firm is a certified Woman Business Enterprise (WBE) and Women-Owned Small Business (WOSB). She sits on the board of the EO (Entrepreneurs' Organization) Los Angeles Chapter as membership chair and runs an EO Accelerator Group where she mentors entrepreneurs. Additionally, she is involved in YPO and has spoken for Vistage, Entrepreneurs' Organization, the Beverly Hills Bar Association, the Irvine Chamber of Commerce, the Beverly Hills Chamber of Commerce, the Los Angeles Chamber of Commerce and Professionals in Human Resources Association (PIHRA).