Having a tattoo just ain't what it used to be. What was once relegated to an unpolished subculture is now a regular part of American pop culture, one that generates billions of dollars each year and occupies its own (contentious) corner of the fine art world.
According to a 2019 poll from Ipsos, 30 percent of American adults have at least one tattoo, 21 percent more than had a tattoo in 2012. They're even more common among millennials: 47 percent of this generation has at least one tattoo, 37 percent have two, and 15 percent have five or more. Half of the InHerSight team alone is tattooed.
Women and tattoos in the workplace
We asked roughly 1,000 women about their opinions on tattoos in the workplace, and the results suggest that these women don't believe their employers have kept up with cultural acceptance of tattoos; and for some, it affects their decisions.
Our survey participants were nearly unanimous in their acceptance: 94 percent say they believe it's fine for employees to show tattoos in the workplace. Easy enough. But they aren't so confident when it comes to their employer's support for body art, and it affects their behavior: 21 percent say they would be nervous to tell an employer that they have tattoos, and 32 percent say they have refrained from getting a tattoo because it's frowned upon in the industry they work in or hope to work in.
This could come from the fact that the generations currently occupying the highest-ranking positions of the workforce (Gen X, Boomer), and thus make the hiring and firing decisions, came of age when tattoos weren't so accepted, and were in fact seen as deviant. As millennials and Gen Zers climb into those roles in greater numbers (millennials comprised thelargest generational share in the workforce as of 2018, and it's estimated this generation will be 75 percent of the workforce by 2025—so here they come; Gen Zers comprise a quarter of American workers), we'll likely see a shift in perception and acceptance of tattoos in the workplace. Some of it will vary by location and industry, of course—Boomers and Gen Xers will remain clients and customers.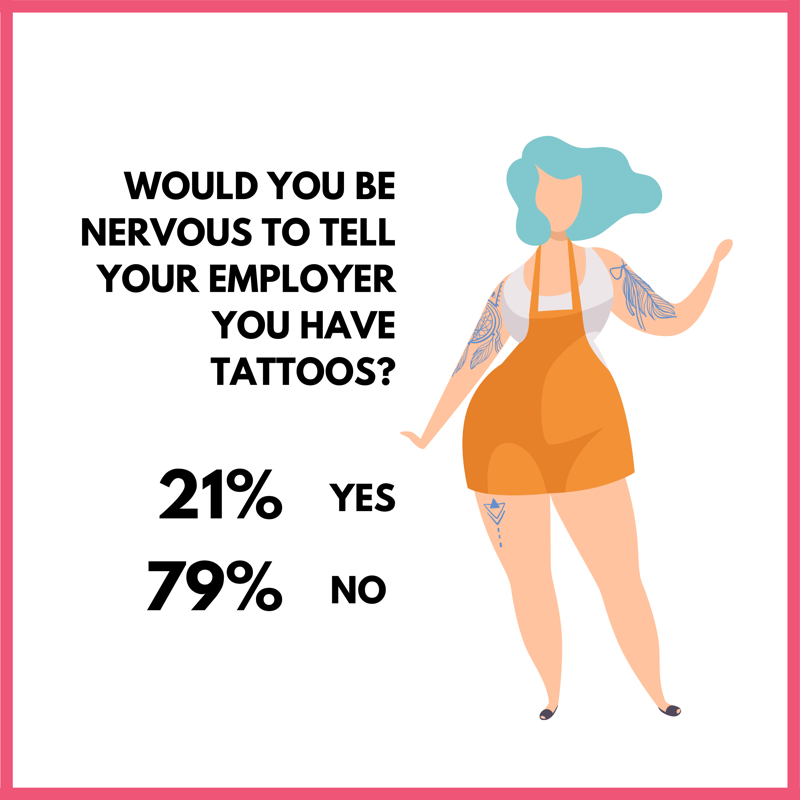 It doesn't seem that employers are quite so unfriendly to the tattooed, though tattoos are still not without stigma in the workplace. Only a very small percentage (2 percent) say they have been fired from a job because of their tattoos, and just 11 percent say that having tattoos has prevented them from getting a job they applied for. It seems that concealment is more popular than prohibition, with 19 percent reporting their employer requires them to cover their tattoos at work. Some of the distaste for body art comes laterally, in fact: 15 percent of respondents say they have experienced discrimination in the workplace because they have tattoos, be it from coworkers, clients, or customers.
Methodology
Survey of approximately 1,000 women in February 2020.
InHerSight is a company ratings platform for women with ratings and reviews of more than 120K companies in the United States.