At InHerSight, our goal is to give you the insights you need to make the best decisions for your life and career, and our ratings data and scorecards for 65,000+ companies are a key piece of that equation.
In this series, we're supplementing our cultural insights with answers to the important (and sometimes difficult to ask) questions women want answers to during the interview process.
Today we couldn't be more excited to be talking to Weebly. Not only is this company working hard to create an inclusive and diverse culture as they grow (and offering employees awesome benefits like unlimited paid time off), but their driving mission promotes an inclusive and diverse ecosystem of entrepreneurs — a double win!
Weebly
Interviewee: Eli Perez-Gurri, Recruiting
Headquarters: San Francisco, CA
Industry: Internet
Size: 201 to 500 Employees
InHerSight:
Can you start by telling us a little bit about Weebly?
Eli:
At Weebly, we are helping the world's entrepreneurs succeed by giving them the tools and support to take their business from idea to success. Now, more than ever, is the time to democratize entrepreneurship and we are leading that movement.
Originally founded in 2007, we have about 330 Weeblies spread across five offices — San Francisco (HQ), New York City, Scottsdale, Berlin, and our newest city to join the lineup, Toronto!
InHerSight:
What are your favorite company values and what are some of the ways you exemplify them?
Eli:
Radical Respect + Honesty = Trust is core to who we are as a company and how we treat each other and our customers. As a global company, we strive to empower entrepreneurs from all backgrounds, interests and experiences, and foster that same diversity & radical respect inside Weebly as well.
InHerSight:
What would you tell prospective female employees about why Weebly is a great place to work?
Eli:
We have an amazing team here at Weebly — a culture that truly "walks the talk" with respect to its core values, a flexible workplace that is very supportive of parents, and a deep commitment to attract and retain the very best employees. Not to mention, we have a lot of fun too!
InHerSight:
Can you share data on your company's gender diversity?
Eli:
Executive:
Overall:
InHerSight:
How does Weebly view diversity and seek to develop it?
Eli:
Weebly believes that a monoculture leads to limited and short-term thinking, and having a more diversity across backgrounds, identities, opinions, and personalities leads to better outcomes: a better product, a stronger company, and a more enjoyable place to work.
We are dedicated to developing and supporting a diverse and inclusive workplace and community, grounded in our core value of "radical respect + honesty = trust" and appreciation for individual differences. We take pride in highlighting and celebrating what makes the entire Weebly family different and unique. Our DivCom (Diversity Committee) meets monthly to discuss tangible ways to broaden our commitment to diversity and inclusion.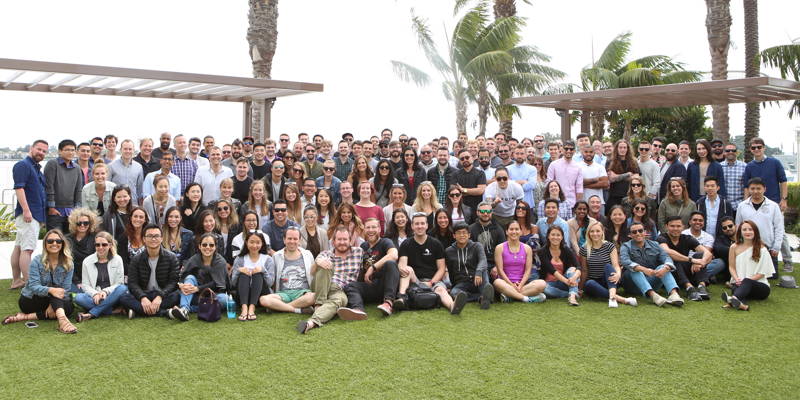 InHerSight:
Are there initiatives or support structures in place for minority groups?
Eli:
Weebly has ERGs (Employee Resource Groups) to support different minority groups including 2x (Women), Somos Weebly (LatinX), Queeblies (LGBTQ+), and Parents. In addition, Weebly recognizes and highlights certain months of the year including Black History Month, Women's History Month, Asian American Pacific Islander Month, Pride Month, and Hispanic Heritage Month just to name a few!
For Women's History Month, we celebrated women (employees and customers) in many ways but one of our our favorite events was the Power of We Fireside Chat. At Weebly, we believe in the Power of We — which means that regardless of gender we are all seen as equal. At this fireside chat we encouraged open dialogue around what it means to be an ally in today's workplace and society. The conversation was around supporting women to find their voice while at the same time allowing men to also be a part of the conversation.
InHerSight:
Does Weebly have executive level support around diversity?
Eli:
Absolutely! Our CEO, David Rusenko, explains, "If you're trying to build a long-lasting company that has a great foundation, then you need to think about diversity early on," in a Business Insider article . Weebly's executive team has grown more diverse over the years and we are proud that it is equally represented by women and men.
InHerSight:
Nearly 40% of women leave the workforce when they have children. How does your company support working moms?
Eli:
Weebly has a generous Parental Leave policy in addition to unlimited time off and a flexible work schedule. We also have an ERG for parent's where they support and learn from each other. [ Check out their maternity leave policy here. ]
InHerSight:
What diversity, inclusion, and cultural competence training have your managers had?
Eli:
All of our managers are required to take an Unconscious Bias training. Research shows that unconscious bias limits effective decision-making and is a barrier to cultivating a diverse, inclusive culture. We believe that this training is important for not only managers, but everyone in the company, so we've made it available for all employees to attend.
InHerSight:
Finally, how do your company's recruiting efforts support a diverse workforce?
Eli:
Our goal as a recruiting team is to to provide candidates with the best interview experience — we want them to feel welcomed and comfortable throughout the entire process. We have a standardized interview process to promote fair, objective outcomes which don't allow for bias to creep in. We are intentional in the way we source candidates, ensuring people from all different backgrounds are represented and that our job descriptions have inclusive language. Presenting candidates with diverse backgrounds to our hiring teams fosters an inclusive environment for producing great work!
---
Thank you, Eli, for answering our questions! If you're interested in learning more, check out Weebly's open positions, read about their benefits, and see ratings from the women who work there on the company's InHerSight profile .
Want your company to do a reverse interview? Send us an email at hello@inhersight or use our contact form to let us know.